Lightning Turbo Yeast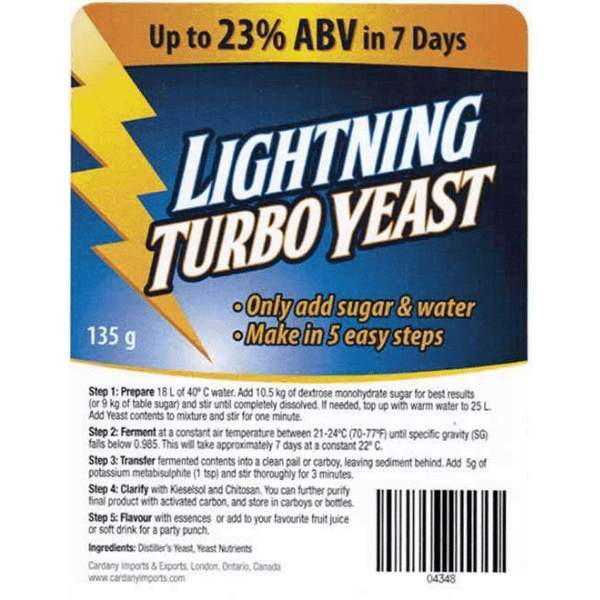 Description
135g sachet of Lightning Turbo Yeast.
Makes 23L of 23% ABV alcohol. Ferments in as fast as 7 Days. Requires 9 KG (18lbs) of sugar. Be the friend that everyone likes - with the Lightning Turbo yeast!
Ingredients:
Distiller's Yeast, Yeast Nutrients
Instructions
Step 1: Prepare 18 L of 40 °C water. Add 10.5 kg of dextrose monohydrate sugar for best results (or 9 kg of table sugar) and stir until completely dissolved. If needed, top u with warm water to 25 L. Add Yeast contents to mixture and stir for one minute.
Step 2: Ferment at a constant air temperature between 21-24 °C (70-77 °F) until specific gravity (SG) falls below 0.985. This will take approximately 7 days at a constant 22 °C.
Step 3: Transfer fermented contents into a clean pail or carboy, leaving sediment behind. Add 5g of potassium metabisulphite (1 tsp) and stir thoroughly for 3 minutes.
Step 4: Clarify with Kieselsol and Chitosan. You can further purify final product with activated carbon and store in carboys or bottles.
Step 5: Flavour with essences or add to your favourite juice or soft drink for a party punch.
Videos
Resources