Coopers Dark Ale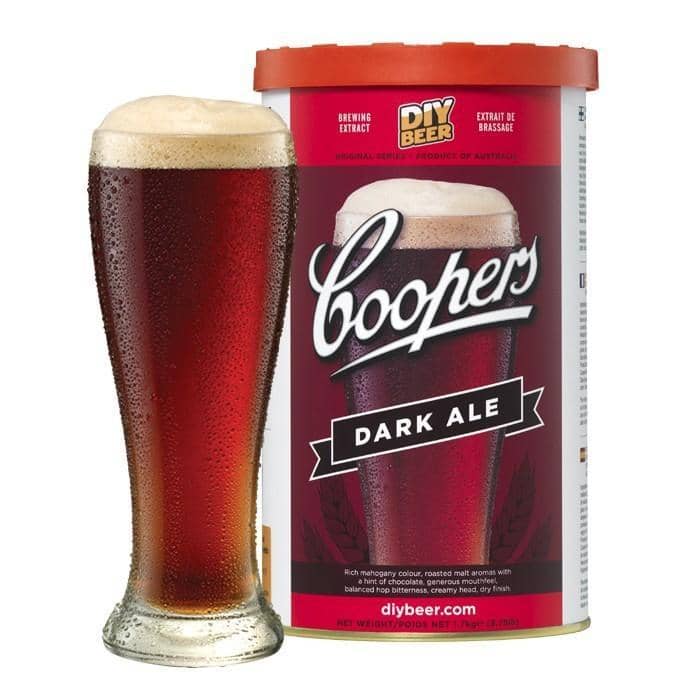 Features
Made in: Australia
High quality, proven recipes kits

Ready to drink in: 21 days
Quantity Made: 60 x 375ml (40 cents / bottle!!!)
Colour: 650 EBC

Bitterness: 590 IBU
Target Alcohol: 4.5%
Description
This Dark beer has a rich mahogany colour and a creamy head. Roasted malt aromas with a hint of chocolate, generous mouthfeel dominated by roasted malt flavours, sufficient hop bitterness to give balance and a dry finish. A favourite amongst dark beer drinkers.
We recommend to add 1KG of brewing sugar (Dextrose) or Brew Enhancer #3 
DANNY'S PRO TIP: 

Make your own BREW ENHANCER #3 for less $ 
250g

 

Dextrose
250g

 

Malto-dextrin
500g Amber DME
Add this 1KG mixture into your brew instead of 1kg of dextrose or sugar and get a more flavourful beer for pennies more.
RECOMMENDED PURCHASES WITH THIS COOPERS HOMEBREW KIT
Similar to this Dark Beer Kit

Videos
Resources