Still Spirits Turbo 500 T500 Reflux Column Condenser - Copper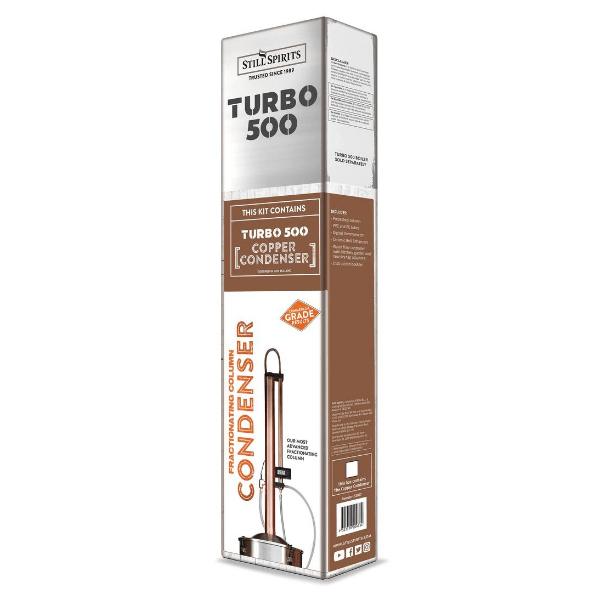 Features
Cooper Body

Produces 95% yield at 93% purity.

Easy to use.

The ultimate home distillation unit.

Stops producing when alcohol exhausted.

Effectively self-contained.

Produces 95% yield at 93% purity.
110 Volt.
Includes
Prepacked Copper Condenser Column
PVC and PE Tubes
Digital Thermometer
Distilling Conditioner (Ingredients: water, silicone antifoam)
Ceramic Boil Enhancers
Water Flow Controller with kitchen, garden and laundry tap adaptors
Instructions Booklet
Description
The ultimate still in home distilling, the Turbo 500 is a must for anyone who wants to produce large quantities of extremely clean, pure alcohol. The Turbo 500 allows you to collect an astonishing 95% of the possible alcohol from the wash. This comes out at an amazing 93% alcohol purity which beats every other still on the market.

High-quality alcohol made with the Turbo 500 can be used to make high quality, commercial-grade, clear spirits such as Gin, White Rum and Vodka as well as any of the other spirits and liqueurs in the Still Spirits Flavouring range. 
Similar Products you might like

Resources